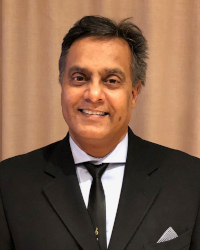 David Ali


Senior Engineering Quality Manager – Pratt and Whitney Canada

---
David graduated from Ryerson University with an Aerospace diploma and a Degree in Mechanical Engineering. He has worked at PWC for more than 30 years in the development of gas turbine engines. David has worked in design, development and project management of several different engine models from concept to the completed certified product. Currently David leads a team of technical specialists in Ontario, Quebec and Poland to continuously monitor the appropriateness and effectiveness of Engineering processes which improve the quality of "first design", thus increasing the reliability of PWC products and satisfying government and regulatory requirements and international standards.
David shares his knowledge and enthusiasm for engineering through the mentorship of PWC colleagues as well as through the F.I.R.S.T. robotics Canada program in which he has mentored high school student for the past seven years.
David when not guiding students in the design, building and testing of robots, enjoys bouldering and is also an automobile enthusiast who enjoys refurbishing classic cars.